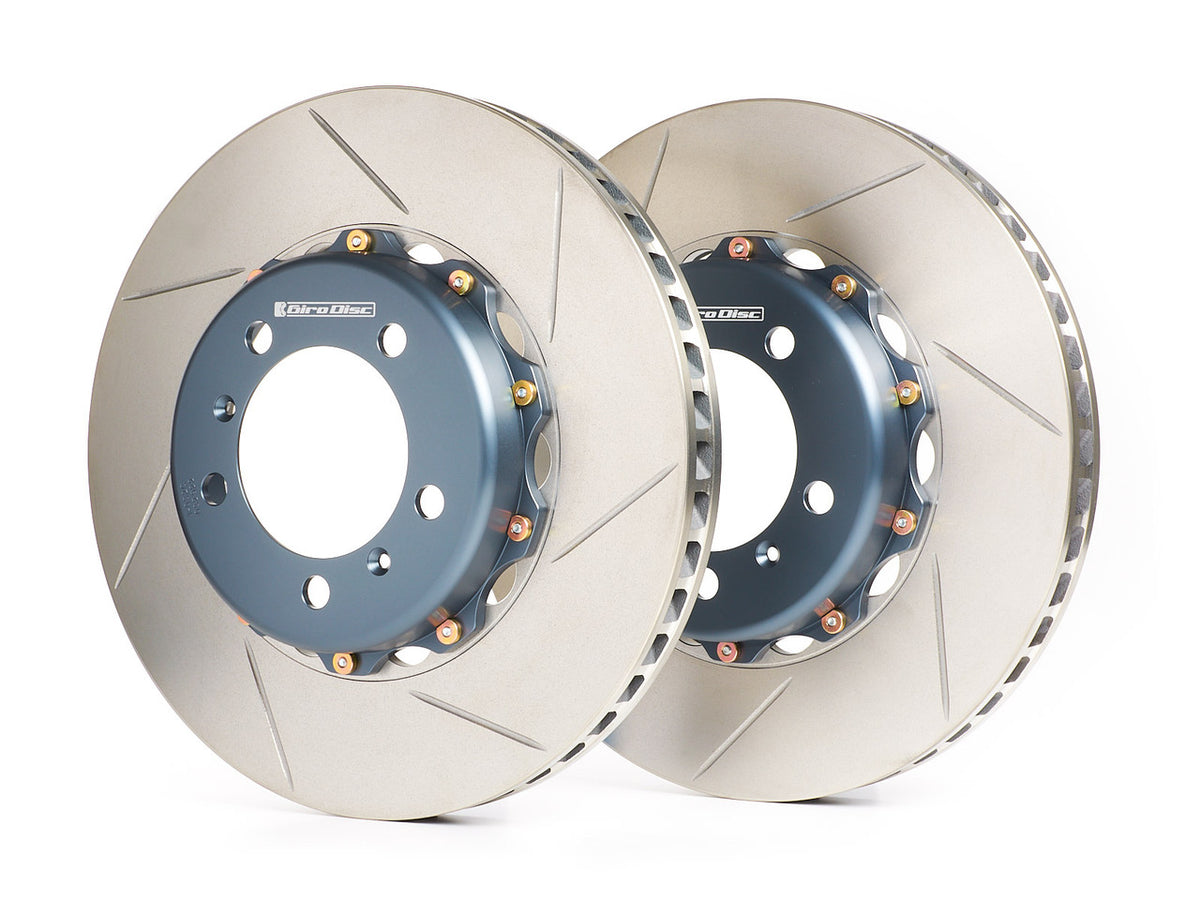 GiroDisc 2-Piece Front Brake Rotors - Tesla Model 3 / Y Performance
Description
See the Emotive Tesla Model 3 brake guide for everything you need to know about optimizing your vehicle's stopping power. These are made to order and typically ship in 1 to 3 weeks. The Tesla Model 3 is a very heavy vehicle which absolutely punishes brakes. 2-Piece rotors are a must have for track junkies not wanting to move to a full on Big Brake Kit.
Take one look at the GiroDisc application list and you will see a company committed to high-performance vehicles. Dodge Viper ACR, Ferrari 812 Superfast, McLaren 765LT, Porsche GTeverything, and the Tesla Model 3. Furthermore, GiroDisc is a company with values. All raw material scrap is recycled and they utilize a 75kw solar array to offset energy usage in their Bellingham, WA manufacturing facility. They are the perfect partner to your electric performance vehicle.
GiroDisc creates direct replacement 2-Piece rotors which work with your Tesla's existing braking system and they install in just minutes. Their 2-Piece construction saves weight even over the factory Model 3 Performance 2-Piece rotors with the added benefit of better ventilation and cooling capacity. On top of that, GiroDisc brake rotors are slotted to continuously clean and refresh the brake pad surface. GiroDisc racing brake products are designed, engineered, and manufactured in the USA. No need to worry about the potential for hot dog-like metallurgy of overseas sourced iron rotors.
Pair of Model 3 Performance / Model Y Performance Front Brake Rotors
Direct replacement for use with OEM Performance Calipers
U.S.-sourced 6061-T6 aluminum rotor hat
Full-floating slotted and replacable cast iron rotors
Notes: These 2-Piece brake rotors move the wheel 4mm away from the hub and remove the interference from the Model 3 Performance stepped hub. If you were running 5mm wheel spacers they make excellent paper weights!
Related Applications