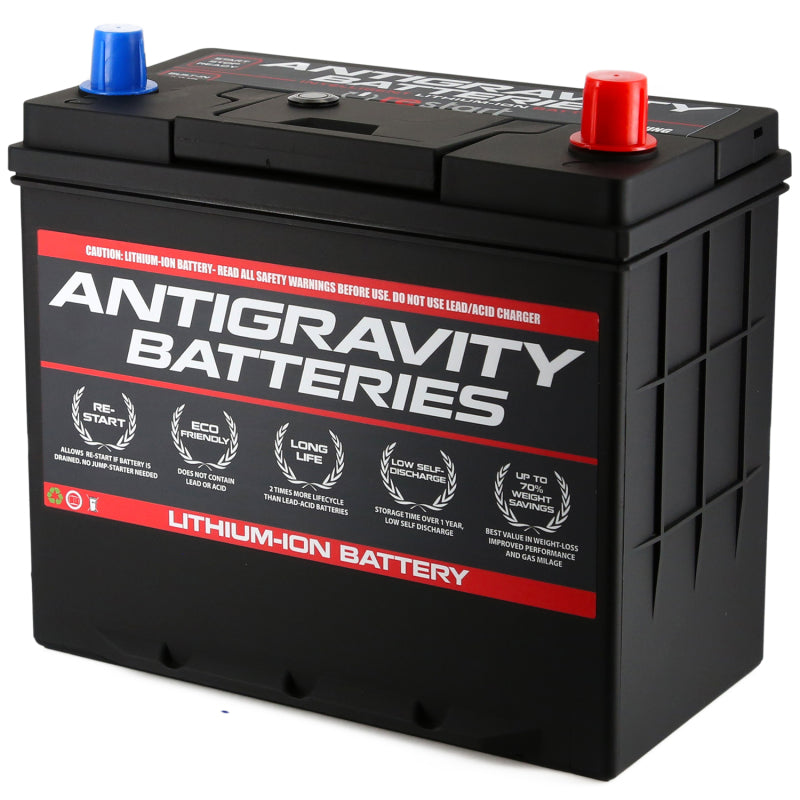 Antigravity Group 51R Lithium 12V Battery with RE-START - Tesla Model 3 and Model Y
Description
DISCLAIMER: Not officially supported as a Tesla battery by Antigravity.
If you are looking for a simple cost-effective low voltage battery replacement for your Tesla Model 3 or Y, this is not it. Does it work? Thousands of miles and years of testing LiFePO4 batteries for the Tesla say they do. Is it for everyone? Not necessarily. This is for those that want a lightweight and longer lasting battery no matter the cost. Antigravity is researching solutions aside from conventional starting batteries for EV applications.
Antigravity Batteries is dedicated to bringing the best in lithium-ion products to the motorsports community. They are the first name that comes to mind for racers looking for a lightweight battery replacement. As it turns out, the technology Antigravity has built for powersports and motorsports makes their batteries an excellent choice for any vehicle - street or track.
Lithium-ion batteries are a common place item in the modern world powering every day items such as your mobile phone and laptops. They are lightweight, energy efficient, and have a low self-discharge rate. A traditional car battery features a 12V lead-acid battery - heavy, relatively low energy density, and rather sensitive to heat. This battery is found in the vast majority of cars, including Tesla Model 3s and Model Ys produced prior to 2022. In 2009, Porsche became the first auto manufacturer to start including lithium-ion starter batteries in their vehicles. Companies like McLaren then followed suit.
Antigravity brings lithium-ion car battery technology to the masses. Their standard battery size drop-in replacements are a direct fit to your Tesla. Just as your Tesla features a battery management system (BMS), so too does an Antigravity battery. The onboard BMS prevents over-charging, over-discharging, and short-circuit protections while also offering cell balancing and thermal protection. While early production Tesla Model 3 owners are now replacing their lead-acid batteries, you can expect an Antigravity battery to last from 7 to 9 years depending on use and climate. As a bonus, you can also expect to drop over 15 lbs by moving from the factory lead-acid battery to an Antigravity li-ion.
That is not all. Antigravity's RE-START technology features a separate back up charge that allows you to wirelessly jump-start the vehicle. While you will never need to "jump-start" your Tesla, this back up charge does allow you to have a reserve power source in case your charge goes to near zero or the vehicle is experiencing parasitic drain from 12V accessories. If you needed any more proof that this is a high-tech battery, Antigravity also features a bluetooth battery tracker that allows you to monitor the battery and set alerts for when charge is low.
LiFePO4 Chemistry
Available in 24Ah / 1000CA / 8.5 lbs or 30Ah / 1200CA / 11.7 lbs
Built-in BMS with Bluetooth Monitoring
Keyfob Remote for Reserve Power
This is a Group 51R sized battery which will fit the Tesla Model 3, Model Y, and other vehicles such as the Mazda Miata, Honda S2000, or Nissan GT-R. Please reach out if you need help finding an Antigravity battery for another application.