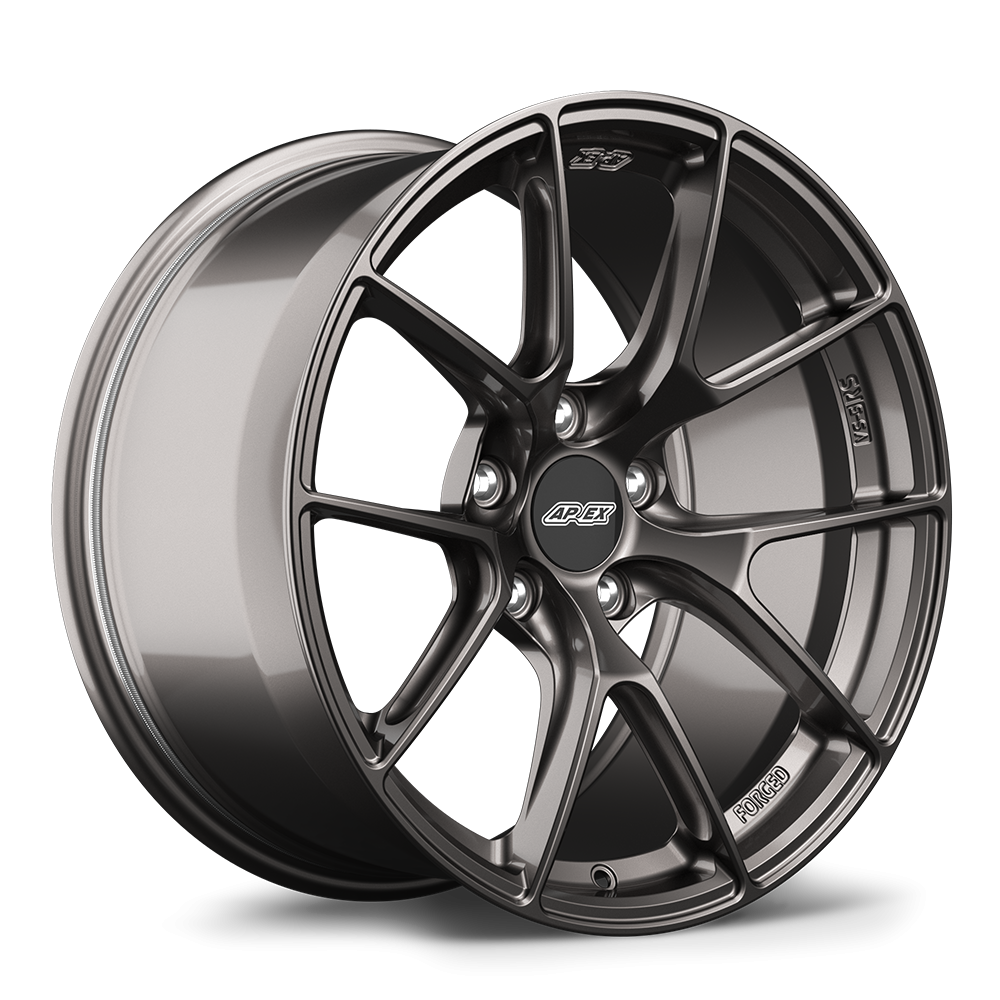 APEX VS-5RS Forged Wheels - 18x9.5 +29 - Tesla Model 3 Fitment
Description
These are brand new wheels to the market with the first container arriving in June 2022. These will sell out fast. Please order now or email hello@emotive.engineering to place a pre-order deposit. ETA for Brushed Clear and Satin Black is June 2022, Anthracite is July 2022.
If you visit a local track day or club race, you are bound to find loads of modified BMWs with APEX Race Parts wheels. Emotive Engineering has experience not only as a long-time customer of APEX Race Parts, but as a local supplier here in the San Francisco Bay Area, I have also gotten to know the team, their emphasis on engineering design standards, and their use of modern tools to design wheels that will hold up to the abuse of track use.
Unlike other wheel companies that design a generic wheel and machine off material to meet an offset, APEX tests each specific offset specification for strength and durability. All of APEX's wheels are designed and tested for specific applications and are officially tested and registered with Japan's VIA and meet or exceed the stringent JWL load rating requirements. All wheels come with a lifetime structural warranty and if you have a track "oopsie", APEX will offer 50% off a new wheel no matter what the damage to the wheel is. Track wheels should be considered consummables, so this is an amazing deal.
The VS-5RS represents years of innovation and development resulting in the lightest wheel that APEX makes. This specific model of the APEX Sprint™ line, VS-5RS is designed to be hubcentric with a 64.1mm center bore specifically for the Tesla Model 3 and Y. APEX designed and developed their own dies to stamp aluminum motorsport forging blanks that meet their exact specifications. They then side-milled each spoke to remove any excess material that does not add strength. Further material is taken out from the lug pockets to ensure your impact sockets fit without the need for special tuner lugs or thin-walled sockets. The VS-5RS feature massive brake clearance perfect for OEM Tesla Performance brakes or your Big Brake Kit. At around 18.3lbs, the VS-5RS is one of the lightest and strongest 18" wheels on the market.
The recommended tire size for these wheels on a Model 3 is 265/40R18. A 255/40R18 can be run for more efficiency or a 275/40R18 for more overall grip. Beware that a 275 may rub the spindle depending on specific tire model. For a full list of potential compatible tire sizes for the Tesla Model 3 please see our guide. Available in Anthracite, Brushed Clear, and Satin Black. Price is for a set of four wheels.
Specifications:
Ultra lightweight at 18.3lbs
18x9.5 5x114.3
+29mm Offset
1600lb Load Rating
64.1mm Center Bore with step lip compatible with Performance models
Profile 2 - medium concavity
Emotive Engineering is an authorized APEX Race Parts Dealer. If you are interested in a product not listed on the website or for APEX Wheels for another vehicle, please email us at hello@emotive.engineering.