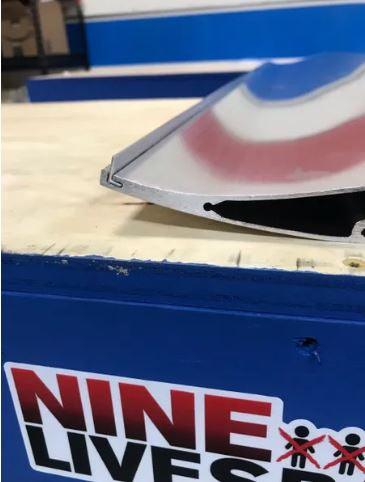 Nine Lives Racing - Gurney Flaps
Description
If you have seen a large GT3 wing at a track day in the last few years it is more than likely you were looking at a Nine Lives Racing Big Wang. Most widely known for their wing kits, 9LR also specializes in splitters, diffusers, and other aerodynamic parts to help you go faster.
The story of the Big Wang starts with a prototype sports car. Nine Lives Racing founder, Johnny Cichowski, noticed while working on the prototype car that their airfoil was producing massive amounts of downforce without killing top speed. He mounted the wing on his LS-powered Miata and this wing profile has taken the track world by storm ever since. These extruded aluminum wings are developed, patented, and built for that prototype project. Nine Lives Racing takes the airfoil and makes it readily available to the public as a bolt-on part. Featuring a 15.2:1 lift-to-drag ratio it is the best wing in its class. Nothing else comes close.
One of the unique features of the Nine Lives Racing airfoil is an allowance to install a wickerbill or "Gurney Flaps" for more downforce. Named for its inventor, the late great Dan Gurney, a Gurney Flap is a small tab projecting from a wing that allows for more downforce without changing the wing's angle of attack. This allows for quick and easy downforce changes depending on the track or track conditions. You can add up to 75lbs of downforce in just seconds.
Made from 6061 American-sourced aluminum, 9LR Gurney Flaps are cut to size for your specific wing application. If you are running our Tesla Model 3 Big Wang Kit your Wang is 71" long. Please include your 9LR Wang size in the checkout notes.
Available in:
1/4" high - tiny downforce bump
1/2" high - normal downforce bump
3/4" high - mega downforce bump
3-pack for the racer who has it all
Emotive Engineering is an authorized Nine Lives Racing Dealer. If you are interested in a product not listed on the website, please email us at hello@emotive.engineering. All Nine Lives Racing kits are built to order. We seek to always have a Model 3 Big Wang Kit in stock and ready to ship, but should we run out please allow an additional 3 weeks.