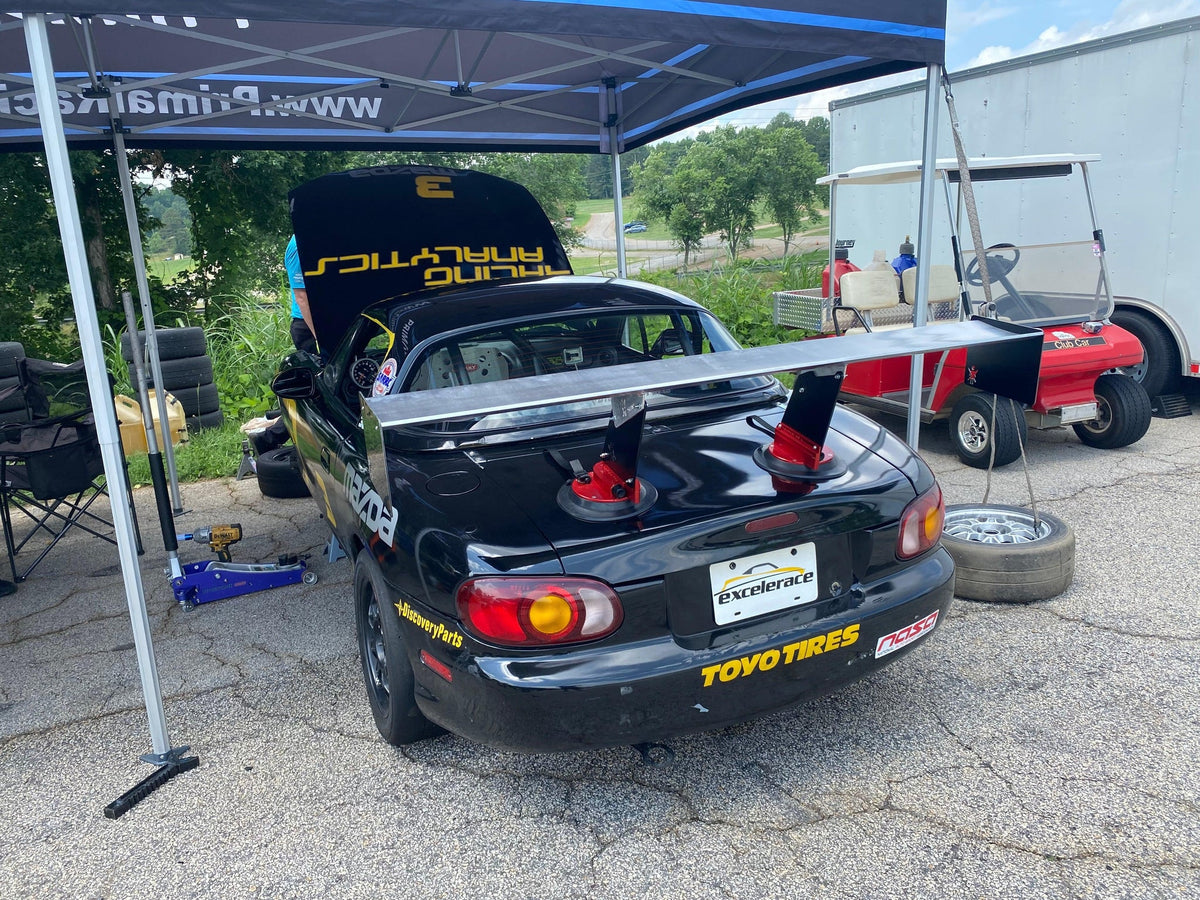 Nine Lives Racing - 71" TrackWing Suction Cup Wang Kit
Description
If you have seen a large GT3 wing at a track day in the last few years it is more than likely you were looking at a Nine Lives Racing Big Wang. Most widely known for their wing kits, 9LR also specializes in splitters, diffusers, and other aerodynamic parts to help you go faster.
The story of the Big Wang starts with a prototype sports car. Nine Lives Racing founder, Johnny Cichowski, noticed while working on the prototype car that their airfoil was producing massive amounts of downforce without killing top speed. He mounted the wing on his LS-powered Miata and this wing profile has taken the track world by storm ever since.
These extruded aluminum wings are developed, patented, and built for that prototype project. Nine Lives Racing takes the airfoil and makes it readily available to the public as a bolt-on part. Featuring a 15.2:1 lift-to-drag ratio it is the best wing in its class. Nothing else comes close.
Alright, you have already heard of the Nine Lives Wang, but there is no way you are drilling holes in your pristine trunk or showing up to the employee parking lot on Monday with all 71 inches of winged awesome. The TrackWing Suction Cup Wang Kit comes with all of the features and optional upgrades of the prototypical 9LR Wang Kit but is installed and uninstalled in a jiffy.
The suction cup system is built by TrackWing, LLC and shipped as a complete kit from Nine Lives Racing. It needs 32" x 10" of flat surface to adhere to (which the Tesla Model 3 totally has via IG:@mcbat8). For other vehicles, it will not install over panel gaps or anything that looks like a van roof. The wing sits 12" above the surface and comes with everything you need to add removable downforce to your car, including safety tethers. The suction cups are good up to a theoretical 180mph and the tethers are there in case there is vacuum loss. Not for use on vinyl wrapped cars. It will suck up your wrap and you will lose suction. Please see TrackWing's FAQs. for more details.
Please note: You must use the safety tethers. You MUST use the safety tethers. Emotive Engineering, Nine Lives Racing, and TrackWing, LLC will not pay for any damages to cars you left in the dust. If the wing falls off the car, serious injury or death can occur.
Emotive Engineering is an authorized Nine Lives Racing Dealer. If you are interested in a product not listed on the website, please email us at hello@emotive.engineering. All Nine Lives Racing kits are built to order. We seek to always have a Model 3 Big Wang Kit in stock and ready to ship, but should we run out please allow an additional 3 weeks.
It is strongly recommened that you powder coat or vinyl wrap your wing. 9LR Wangs are shipped raw. While aluminum does not corrode in the same manner ferrous metals do, your wing will get uglier over time. That will bother both of us.