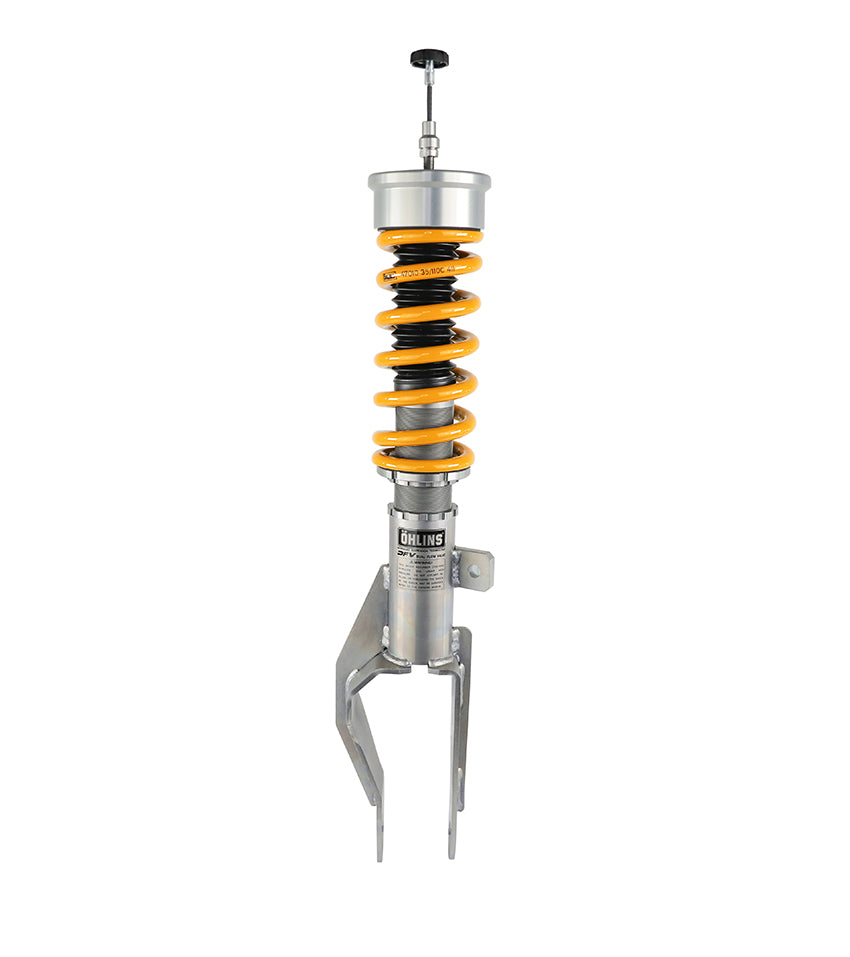 Ohlins Road & Track DFV Coilovers - Tesla Model 3
Description
In Stock! Install details on our shop car coming soon!
Coilovers are one of the best ways to add handling performance and aggressive aesthetics to your vehicle. See our guide to Tesla Model 3 Coilover Suspension Kits for considerations when purchasing coilovers and a full rundown of products available on the market.
Founded in 1976 by Kenth Öhlin, Öhlins motocross dampers won a world championship just two yars later. Since then, Öhlins has claimed more than 200 World Championship titles in Motorsport. That tradition continues as Öhlins uses professional motorsports, from MotoGP to NASCAR, as an R&D arm for future aftermarket and OEM applications. Their passion for racing ultimately makes its way into street vehicles, giving every level of rider and driver the opportunity to experience their advanced suspension technology.
Backed by over 45 years of experience in advanced suspension development and global racing series, the Road & Track line showcases Öhlins' ability to engineer the ultimate suspension system for driving enthusiasts. Öhlins has proven itself in many enthusiast communities as the dual-purpose coilover to have. The Road & Track Suspension for Tesla Model 3 is specially tuned for the platform and is underpinned by cutting-edge Öhlins suspension technology. Öhlins' patented Dual Flow Valve (DFV) technology transforms chassis control while sustaining a refined ride quality unsurpassed in the OE or aftermarket. Road and Track coilovers allow you to experience racecar-like handling without sacrificing comfort and safety, whether you're driving to the office or crushing lap times at Laguna Seca.
Ride height and damping control are adjustable to help you achieve the exact look and handling feedback you desire. These coilovers feature a monotube damper structure designed for heightened response, with strengthened inverted struts and aluminum body shocks that are lightweight and aid in cooling. That aluminum construction paired with Öhlins OEM experience means you have a performance setup that resists corrosion and can be an "all weather" setup.
With the Öhlins Road & Track suspension for Tesla Model 3, you can expect a superior ride quality and elevated comfort over a variety of conditions and uses. The combination of premium features and options to fine-tune your performance result in the ultimate suspension package for daily drivers and weekend warriors alike.
627 lb/in (11.2 kg/mm) spring rate front
683 lb/in (12.2 kg/mm) spring rate rear with separate spring preload adjustment
digressive mono-tube damper with Dual Flow Valve (DFV) technology
ISO 9227 - corrosion salt spray tested
rebuildable
2-year limited warranty
This model fits all Tesla Model 3 models, RWD and AWD and is designed for use with your original top mounts.