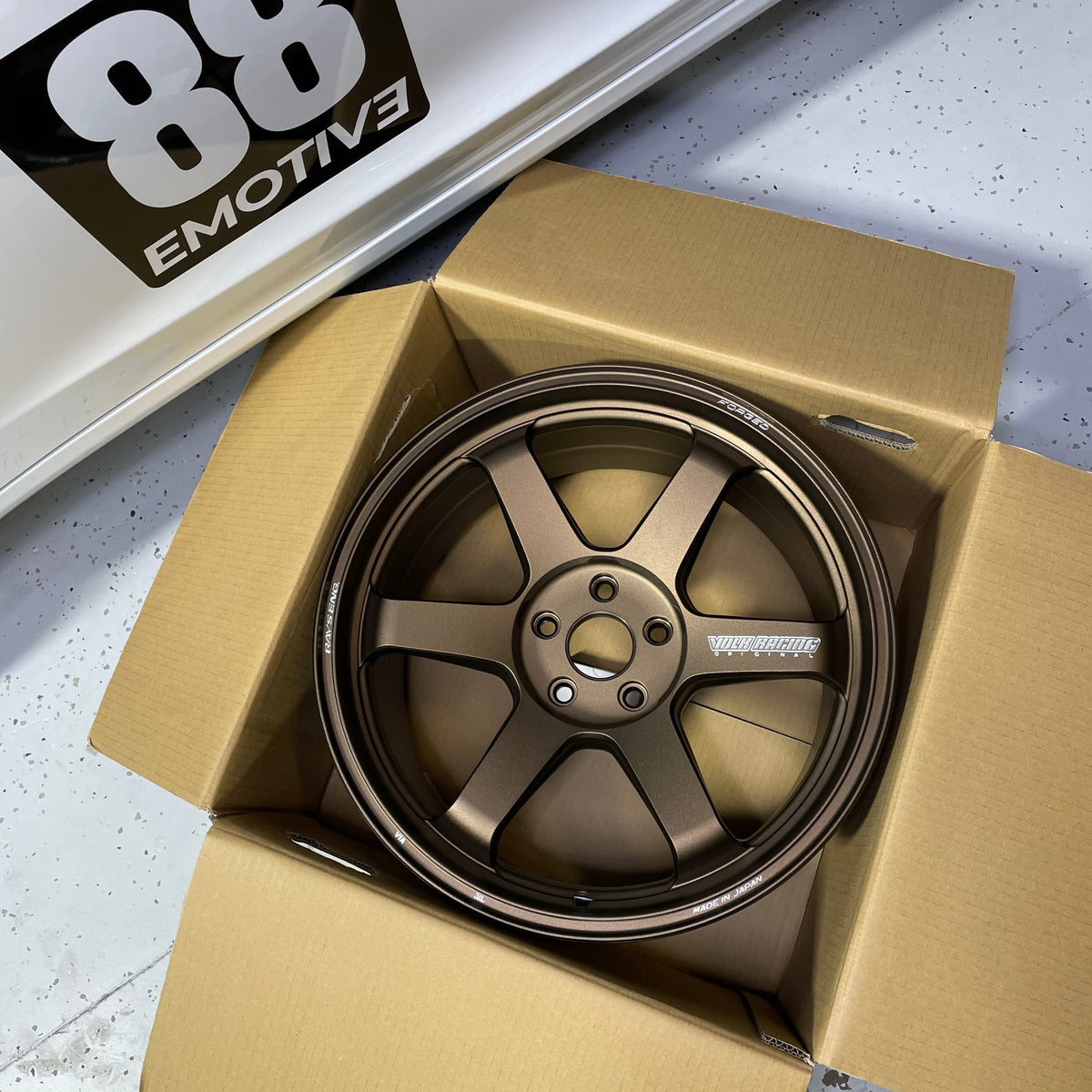 Volk Racing TE37 Ultra M-Spec - 19x9.5 +28 5x114.3 - Tesla Model 3
Description
Please email for availability and next shipment ETA. Typical lead time is 6 to 9 months.
These are the real deal, friends. TE37s made specifically for the Tesla Model 3 with "Face 4" for maximum concavity. Drilled from the Rays factory to accept M14 studs and machined to handle the 64.1mm step to 70.1mm for the factory Model 3 Performance hubs. This makes them a direct fit to all Tesla Model 3 and Tesla Model Ys. No spacers, no aftermarket brake rotors, no rings. They just plain work.
TE37s have become ubiquitous as the tuner wheel to have and need no introduction. However, this is Emotive Engineering and we are here to educate. Founded in the early 1970s, Rays and Rays Engineering are a high-end Japanese wheel manufacturer specializing in wheels for motorsport and street use. Their flagship brand, Volk Racing, represents the ultimate in high-tech forging technology that can be found on winning factory race teams in Japanese Super GT and the British Touring Car Championship all the way up to Formula One. Rays Engineering also manufactures wheels for in-house tuning arms such as Mazdaspeed, NISMO, RALLIART, STi, and TRD. These are motorsport battle tested wheels that stand up to daily use that even the OEMs trust.
The TE37 Ultra M-Spec takes the classic lightweight 6-spoke TE37 design and applies the Ultra moniker to indicate that this is the strongest wheel design in the history of Volk Racing. The primary difference between the Ultra and Ultra M-Spec is the absence of machining around the outer wheel rim resulting in a cleaner look. In the past, people have taken TE37s off a reasonable offset and machined and drilled out the stud pockets to fit the Tesla Model 3. This results in a wheel that was never reinforced or tested for this modification. Sketchy to say the least.
Designed 100% with the Tesla Model 3 in mind and available in +28mm offset (recommended) or +34mm. ~22lbs. Standard colors include OG Bronze (Bronze Almite), Blast Bronze, Matte Black, Diamond Black, and Magnesium Blue, but the entire Volk Racing color line up is available on special order. OG Bronze is an anodized finish while others are paint, including Matte Black. Please email for custom colors or +34mm offset. Center caps are optional and not included. Lightweight, remember!?
Specifications:
Forged 1-piece reverse rim wheel
JWL+R Spec 2 - 735kg
19x9.5 5x114.3
+28mm or +34mm Offset
64.2mm / 70.2mm dual-step Center Bore
M14 drilled
includes Rays High Speed Air Control Valve
Fitment Notes:
Recommended tire size is 265/35R19. Our shop car is running a relatively more aggressive 275/35R19, but you can choose 255/35R19 for efficiency. For a list of potential compatible tire sizes please see our guide. Please reach out if you would like to chat about specific tire recommendations.