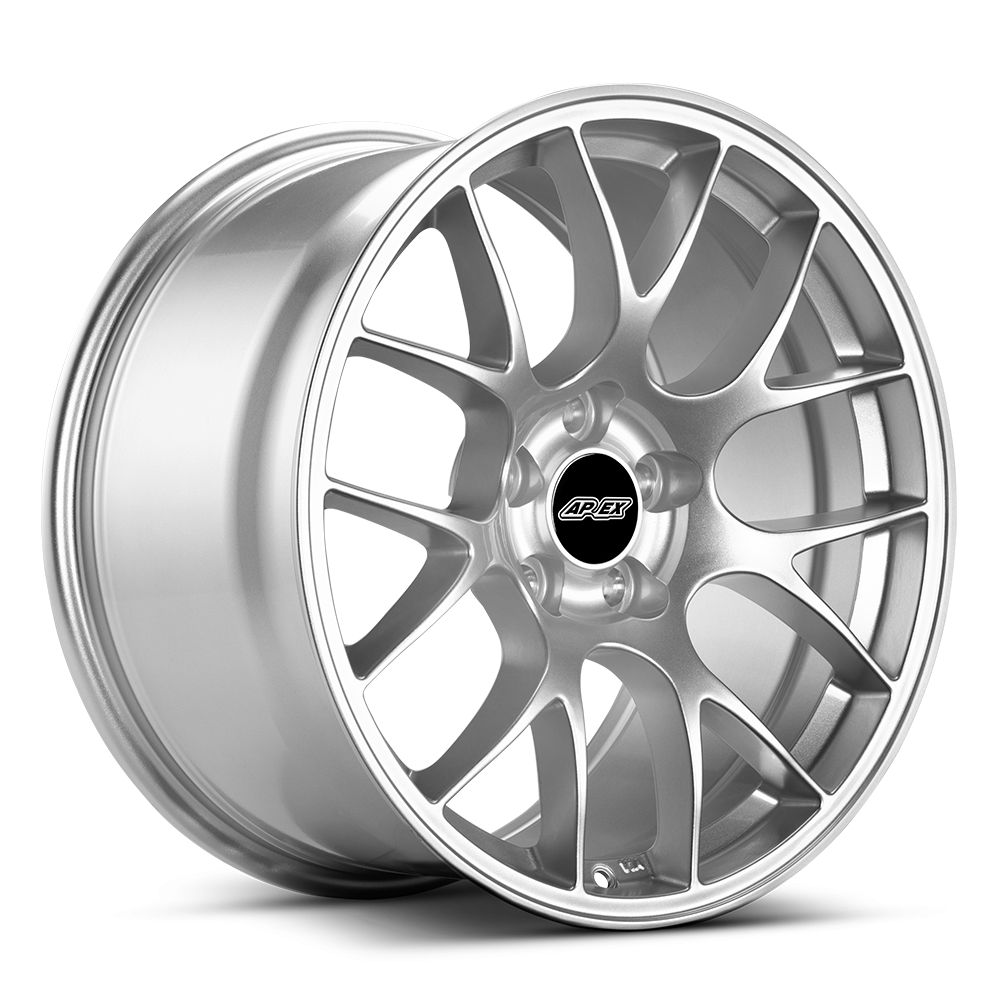 APEX EC-7 Flow Formed Wheels - 18x9.5 +35 - Tesla Model 3 / Y
Description
If you visit a local track day or club race, you are bound to find loads of modified BMWs with APEX Race Parts wheels. Emotive Engineering has experience not only as a long-time customer of APEX Race Parts, but as a local supplier here in the San Francisco Bay Area, I have also gotten to know the team, their emphasis on engineering design standards, and their use of modern tools to design wheels that will hold up to the abuse of track use.
Unlike other wheel companies that design a generic wheel and machine off material to meet an offset, APEX tests each specific offset specification for strength and durability. All of their wheels are designed and tested for specific applications and are officially tested and registered with Japan's VIA and meet or exceed the stringent JWL load rating requirements. All wheels come with a lifetime structural warranty and if you have a track "oopsie", APEX will offer 50% off a new wheel no matter what the damage to the wheel is. Track wheels should be considered consummables, so this is an amazing deal.
The EC-7 is one of APEX's signature Flow Formed track wheels. The Flow Forming process significantly reduces weight in the barrel, which has the greatest impact on rotational mass. During the manufacturing process, rollers apply high pressure to the inner barrel, compressing the aluminum into its final shape. This effectively eliminates porosity and aligns the grain structure of the metal, which increases tensile strength. The end result is a lightweight (21.5lbs) and extremely strong barrel that equals that of a traditional forged wheel at a fraction of the cost.
The curved spokes of the EC-7 serve many purposes, both in terms of form and function. The split "Y" spokes were carefully evaluated from every aspect to ensure light weight and remarkable strength. Their curved design increases brake calipers in almost every application. The unique curvature of each face profile reduces center pad material as they are optimally selected for each unique width and offset. The lack of a deep front lip and spokes that connect directly to the barrel's lip, produce a rigid wheel with even load distribution.
The APEX EC-7 has a 70.5mm center bore and APEX recommends mounting the wheel on Tesla's with their aluminum centering rings. Due to their unique design, these centering rings are also compatible with the awkward lip of the Model 3 Performance hubs.
Available in Anthracite, Race Silver, Satin Black, and Satin Bronze. Price is for a set of four wheels.
Specifications:
18x9.5 5x114.3
+35mm Offset
70.5mm Center Bore
The Project Emotiv3 shop car pairs the EC-7 wheel with 265/40R18 tires. For a list of potential compatible tire sizes please see our guide. Emotive Engineering is an authorized APEX Race Parts Dealer. If you are interested in a product not listed on the website or for APEX Wheels for another vehicle, please email us at hello@emotive.engineering.