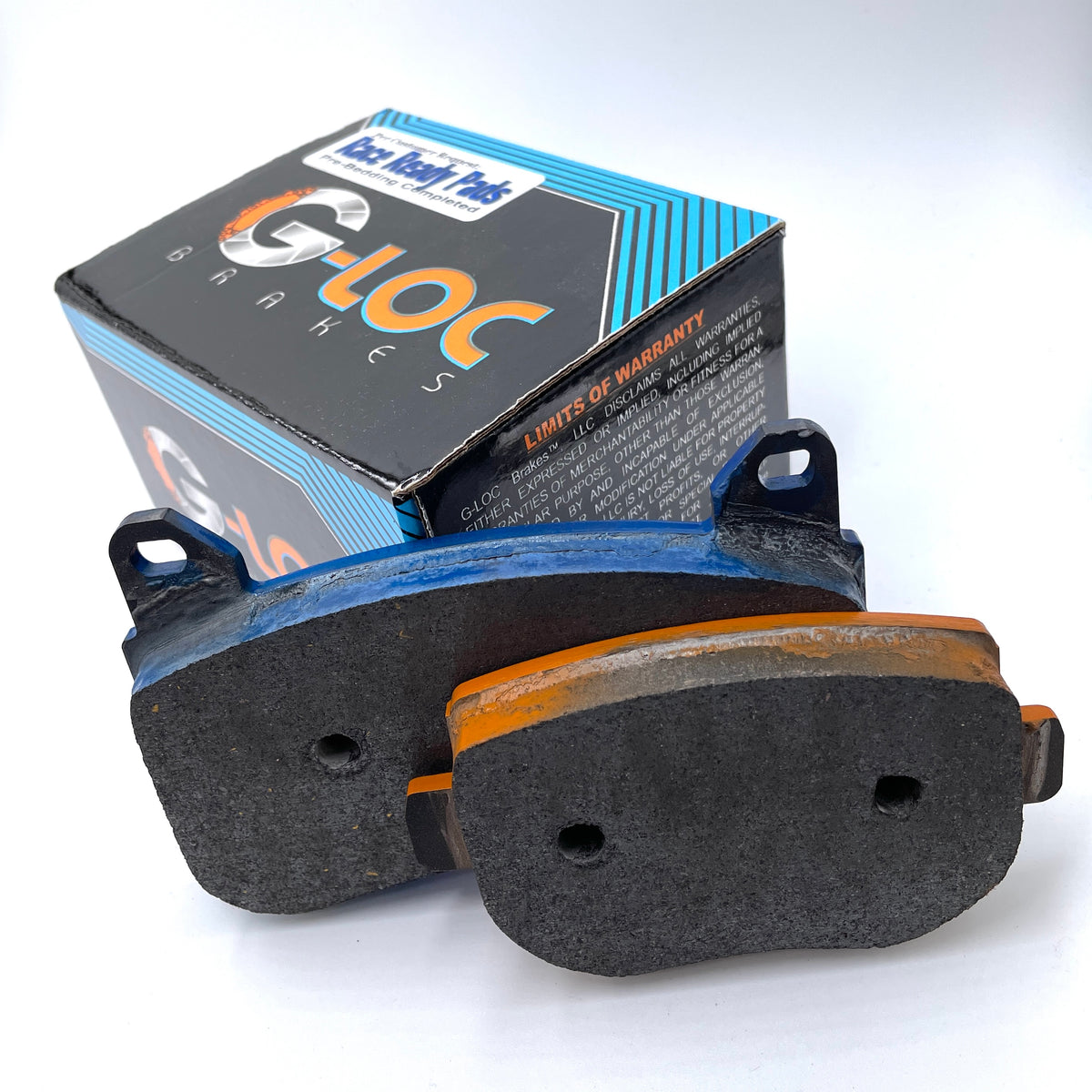 G-LOC Brakes R12/R10 Track Brake Pads - Model 3/Y Performance
Description
G-LOC Brakes was created by racers for racers with the sole intention of providing the highest level of performance friction materials and truly outstanding customer service in the market. Only G-LOC uses proprietary Carbon, Ceramic, Kevlar, and Metallic compound formulations. G-LOC compound formulations are some of the most disc/rotor friendly compounds offered in the world with unmatched modulation and release characteristics. Furthermore, you are less likely to boil brake fluid because of the thermal barrier created with G-LOC compounds. The same cannot be said of competitors who load up their compounds with carbon and iron.
Given the weight of the vehicle, our recommendation for the Tesla Model 3 (and Y) is to run G-LOC's R12 compound in the front and R10 compound in the rear. The R12 compound features an excellent initial bite, high and consistent torque, and outstanding fade resistance over and above the R10. The R12 has a temperature range of 173°F to 1860°F (78°C to 1015°C). The R10 compound leads the industry in disc/rotor friendliness . The R10 has a broad temperature range that begins at 118°F and a fade resistance is in excess of 1475°F (47°C – 801°C). We spec all of our race compound pads pre-bedded from G-LOC so they are ready to race.
If you have ever searched for brake pads for the Model 3 Performance, you will notice that both the front and rear pad shapes appear to be unique to the vehicle. This is where G-LOC's manufacturing expertise comes in. Most brands will attempt to take an existing pad shape and immediately add a product fitment, but G-LOC has created vehicle specific fitments for the Tesla Model 3. This listing is for road racing (closed circuit) pads on the Model 3 Performance. If you are looking for autocross pads please see the G-LOC R6 Pads. Base Model Track Pads are also available.
Note: The R12 and R10 compounds were not originally meant for street use as they will exhibit higher levels of dust and noise. Regenerative braking allows these pads to stay installed between track days without the extreme squeal you may have experienced in the past on an ICE car or the need to get your brakes up to operating temperature. With that said, these pads may not always be completely silent. They may exhibit a low level hum which is barely noticeable or start to exhibit a few more squeaks if they have not been used in a while. A quick re-bed of the pad in to the rotor will quiet them right back down!
For G-LOC's quiet street oriented pad, see the GS-1.
Emotive Engineering is an authorized G-LOC Brakes Dealer. If you are interested in a product not listed on the website or for G-LOC Brake Pads for another vehicle, please email us at hello@emotive.engineering.