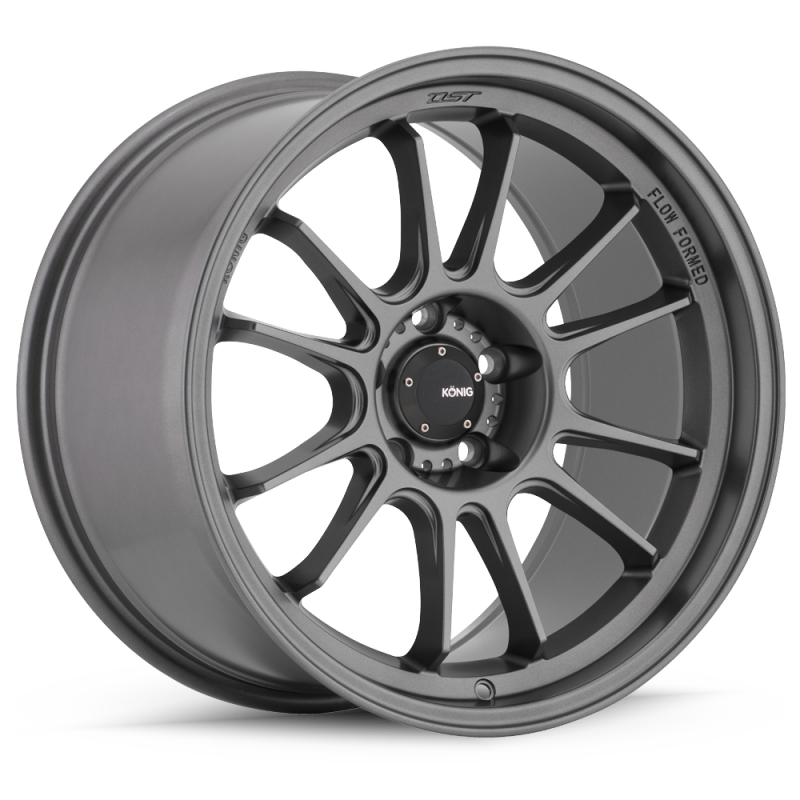 Konig Hypergram - 18x10.5 5x114.3 +25 - Tesla Model 3
Description
Konig is best known as a leader and driving force behind the evolution of the sport compact community. For over 40 years Konig has produced some of the highest quality aftermarket wheels in the world. After decades of track-proven and street driven success, Konig has grown into a company that produces wheels for many vehicle segments, to countries all over the globe, and to the largest wheel and tires dealers in the world. Konig American also manufactures wheels for use by OEMs as well as some of the largest wheel brands in the world.
The Hypergram is a lightweight, 12-spoke / split-6 design that is developed with flow forming technology that offers benefits for both track and street use. Integrating feedback from motorsport teams and drivers, the Hypergram's face has been pushed as far out as possible to allow for brake caliper protrusion and overall brake diameter near the drop center. This provides exceptional brake caliper clearance for large factory brakes and aftermarket BBKs. With any wheel Konig develops with Flow Forming Technology, the end result is stronger, lighter and offers greater elongation and shock resistance than a traditional cast design.
Available in +25 offset and weighing in at a svelte 19.1 lbs in Metallic Carbon with Machined Lip, Race Bronze, Matte Grey, or Matte Black. This is the same wheel that has led Rattlesnake Electric Sport's Model 3 Performance to competitive domination. These are a ludicrous value for an insanely wide and light wheel.
Specifications:
Flow formed and back cut construction
18x10.5 5x114.3
+25mm Offset
~19.1lbs
73.1mm Center Bore
1521lb load rating
"B" Face for maximum concavity
Fitment Notes:
Hello, fellow insane person. This is a super aggressive fitment and I appreciate you for even looking in to this. This setup requires the use of aftermarket camber adjustment arms, the appropriate alignment settings, the appropriate choice of tire, and possibly grinding knuckles and fender rolling. I repeat, this will not fit your Tesla Model 3 without camber adjustments and I can not responsibly sell these to you without a conversation. Emotive Engineering does not accept returns on wheels.
The Model 3 Performance comes with a unique "stepped" hub. The outside of the hub is a fairly standard 64.1mm, but there is a 3mm step on the inner part of the hub that measures 70.1mm. The solution is to either use a 3mm spacer that pushes the wheel away from the hub, aftermarket brake rotors such as our 2-Pc GiroDisc, or to use an overbored wheel. Hypergrams come as a 73.1mm center bore. While you may choose to use hubcentric rings to aide in mounting the wheel, they are not required if you correctly torque the lug nuts.
Recommended tire size is 295/35R18. For a list of potential compatible tire sizes please see our guide.
Please note that the Matte Black and Metallic Carbon x10.5 +25mm offset Hypergram are not regular stock and will require extra lead times. Like I said, you are uniquely insane and I absolutely love it. Please email for current wait times!