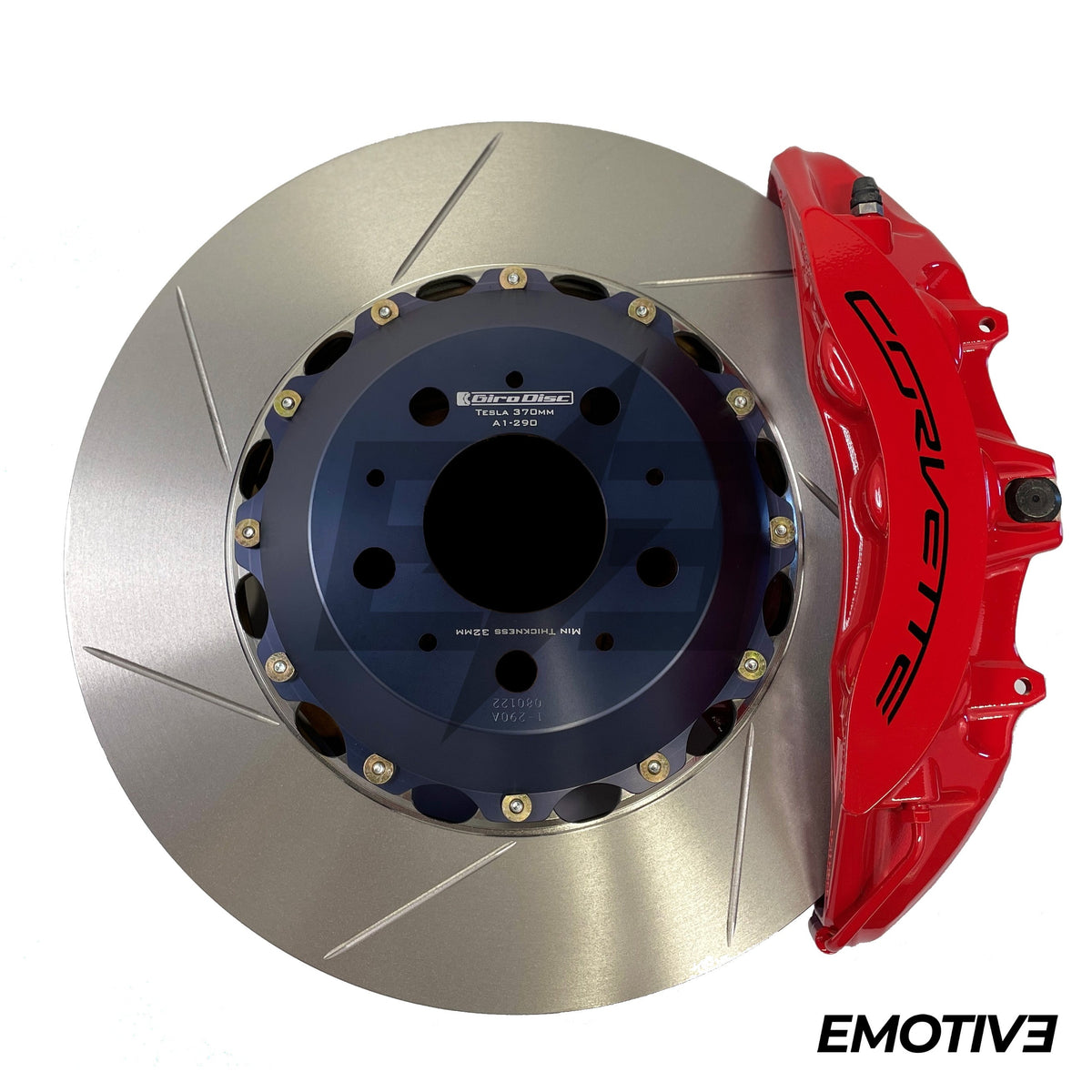 EmotiVetted GM Brembo 6-Piston 370mm Big Brake Kit - Model 3 / Y
Description
Both track and street kits as well as the individual rotor set are in stock and ready to ship. Please email for details.
For a limited time, receive free shipping to the continental United States.
As you push the limits of your Model 3 or Model Y on track you will intimately understand the amount of heat generated trying to slow down your 4,000lb track car. This typically manifests itself in boiled brake fluid or warped rotors. The factory system was not designed for the abuse your driving abilities can push it to. Massive 6-piston Brembos found on the CTS-V and Corvette Z06. Quality, american-sourced 370mm iron rotors from GiroDisc. A full bolt-on affair which allows you to reuse your factory caliper mounting bolts - just remove your brake dust shields.
The 370mm x 34mm GiroDisc rotors were specifically designed to allow you to mount OEM GM Brembos from a number of GM performance vehicles including the ATS-V, CTS-V, and C7 Corvette Z06. These are lightweight 6-piston monoblock aluminum calipers optimized for cooling, specified as "low drag", and are designed to fit under 18" wheels. The 2-piece rotors also feature thicker rotor hats which move the wheel 4mm away from the hub and remove any interference with the Model 3 Performance stepped hub. You can ditch those small wheel spacers! As part of the kit, your calipers are re-threaded to accept the OEM Tesla M12 caliper mounting bolts. All brake caliper hardware is included as well as custom-spec Spiegler stainless steel brake lines.
Checkout the TeslaMotorsClub threads (1,2) for more information.
The EmotiVetted BBK comes in two flavors:
Street
2nd Gen CTS-V Calipers - Silver
Track
C7 Corvette Z06 Calipers - Red
All kits also include:
Spiegler Stainless Steel Brake Lines
OE GM / ACDelco Caliper Hardware
All kits are made to order. Custom powdercoating is available for $500. Please inquire about different brake pads and OE GM caliper colors.