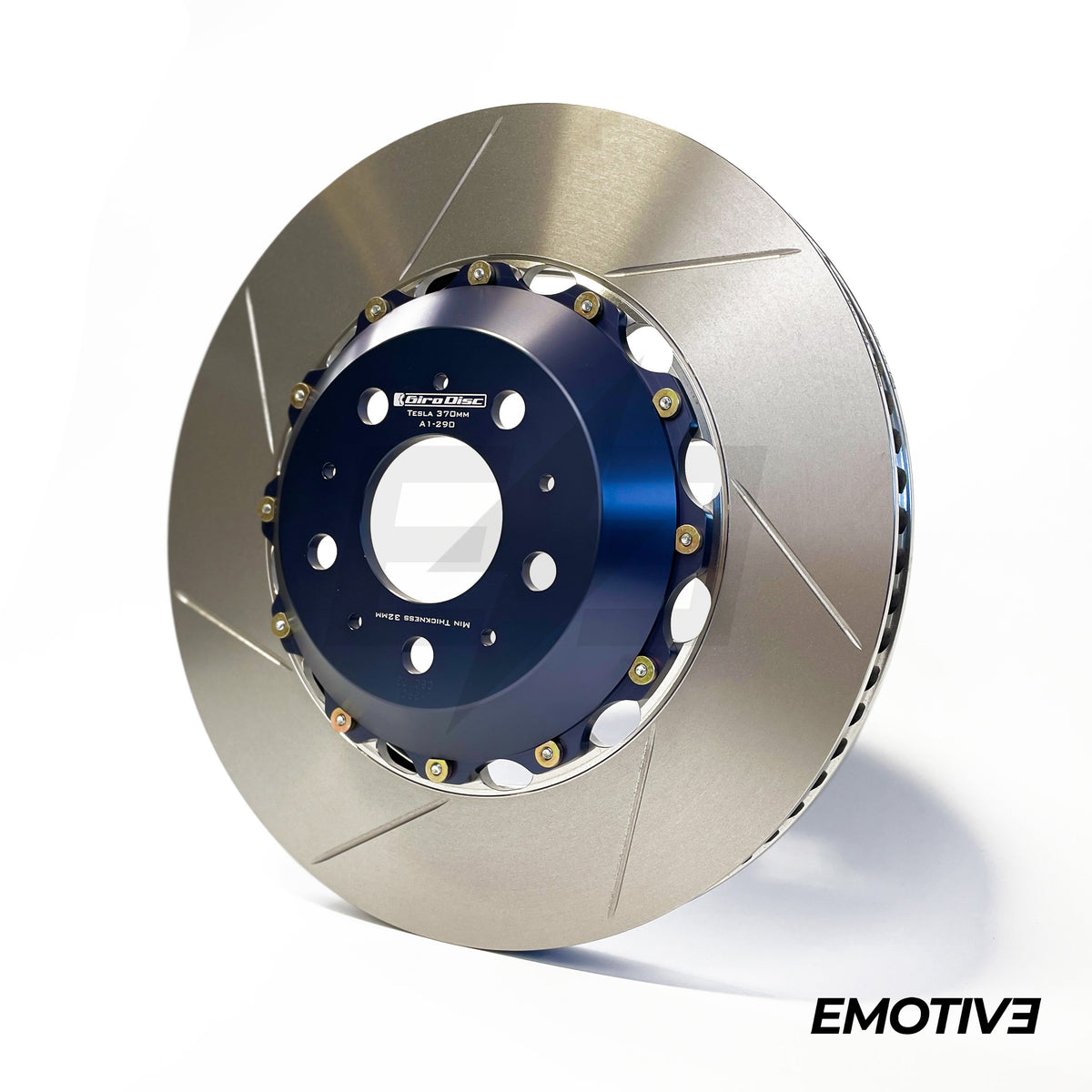 GiroDisc 2-Piece 370mm Brake Rotors for Tesla Model 3 / Y GM 6-pot Brembo BBK
Description
In stock and ready to ship. Please email for details. For a limited time, receive free shipping to the continental United States.
See the Emotive Tesla Model 3 brake guide for everything you need to know about optimizing your vehicle's stopping power.
As you push the limits of your Model 3 or Model Y on track you will intimately understand the amount of heat generated trying to slow down your 4,000lb track car. This typically manifests itself in boiled brake fluid or warped rotors. The factory system was not designed for the abuse your driving abilities can push it to.
These 370mm rotors made by GiroDisc are the center of the "EmotiVetted BBK" for the Tesla Model 3 / Y. Mate these rotors to widely available 6-piston Brembo calipers made for General Motors and you have yourself a relatively inexpensive Big Brake Kit that should massively extend the life of your brake consumables. Mild modificatons to either your new calipers or the mounting holes on the suspension knuckle make this a bolt-on affair without the need for aftermarket caliper mounting brackets. GiroDisc brake rotors are slotted to continuously clean and refresh the brake pad surface. GiroDisc racing brake products are designed, engineered, and manufactured in the USA. No need to worry about the potential for hot dog-like metallurgy of overseas sourced iron rotors.
Take one look at the GiroDisc application list and you will see a company committed to high-performance vehicles. Dodge Viper ACR, Ferrari 812 Superfast, McLaren 765LT, Porsche GTeverything, and the Tesla Model 3. Furthermore, GiroDisc is a company with values. All raw material scrap is recycled and they utilize a 75kw solar array to offset energy usage in their Bellingham, WA manufacturing facility. They are the perfect partner to your electric performance vehicle.
Pair of 370mm Model 3 / Model Y Front Rotors
For use with OEM GM Calipers from the ATS-V, 2nd Generation CTS-V, 5th Gen Camaro ZL1, 6th Gen Camaro SS 1LE, and C7 Corvette Z06
U.S.-sourced 6061-T6 aluminum rotor hat
Full-floating slotted and replacable cast iron rotors
Notes: These 2-Piece brake rotors move the wheel 4mm away from the hub and remove any interference with the Model 3 Performance stepped hub. You can ditch the wheel spacers!
Related Applications